Covid 19- Immunisation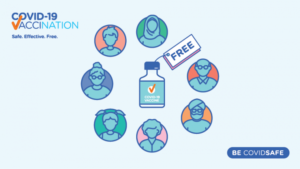 2020 was a year like no other, as we as individuals, businesses and communities struggled to deal with the consequences and uncertainty of the worldwide pandemic of coronovirus.  We sincerely thank our patients for their consideration, understanding and patience as our staff, nurses and doctors have made every effort to keep ahead of the updates and changes this challenging period has bought on us all. 
In 2021 the vaccination effort is expected to commence.  This page will assist in providing accurate information, links and updates on the vaccination effort.  Many millions of patients worldwide have received their vaccine, which provides strong confidence in the safety of these vaccines.
We are committed to working with the Primary Health Network, Department of Health and Queensland Health to assist in a capacity which is appropriate for our clinic, our patients and the community.  It is likely that the first vaccine mass clinics will be funded and run by the Respiratory Clinic, local pharmacies, and mass vaccination hubs.
Once this early phase has passed, it is likely that our clinic will be involved in providing vaccines to our patients.
We will use this page to continue to provide information and updates and links below.
australia-s-covid-19-vaccine-and-treatment-strategy